We are convinced: people after 60 years and older are capable of love in the broadest sense of the word. But how to overcome psychological barriers, how to build a full-fledged relationship that pleases both sides? Where to find your soul mate, when night clubs seem to be inhospitable aliens from a past life? Today we will answer all these questions. By the end of the article, you will understand - an active and interesting personal life after 60 is REAL!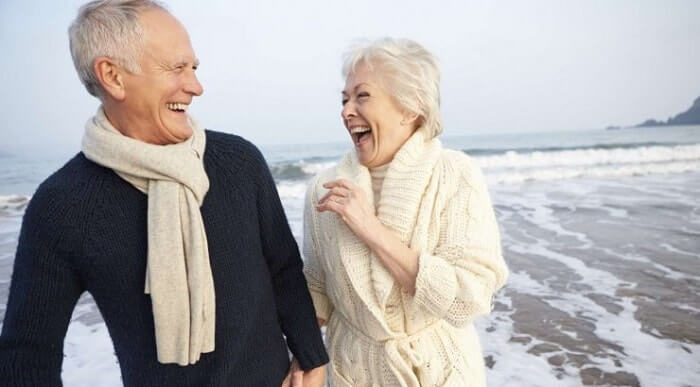 Dating After 60: How Does it Work?
One wise man once said that love has three ages: the first love is childish, the second is adult and mature, the third love is the last ... Each of them must be met on your life path in order to gain experience for the development of the soul. Why is an emotionally mature person attracted only by relationships filled with meaning, and not by naked emotions and passions? Who decided for all and imposed a template that love is a young affair, which for the elderly does not exist? Is over 60 dating a sort of fiction?
Love has no boundaries and does not recognize the framework imposed by society, especially that age boundary. Dating after 60 exists! Emotions do not disappear anywhere after 60 (we will hold the conditional feature of the elderly at this mark) - they just express a little differently, on a subtle spiritual level. It is proved that such a cohesion of the couple even helps to overcome illnesses more easily. Doctors recommend dating after 60 for everyone. Have you ever watched for elderly couples walking in the park? This is a special picture that causes tenderness and warmth in the heart. After all, everyone deserves to meet the decline of life with a close-minded person.
In order to understand how dating after 60 works, you first need to find out what it means to be an elderly person? What are the characteristics of people who have this status? If you do not take them into account, it will not work. So, a man of 60 years or older is:
1. A man with a baggage of experience, life achievements, realized desires. He achieved a certain career, professional and social growth. He has a stable life, where there is a place for free time and for a beloved woman, family and even intimacy.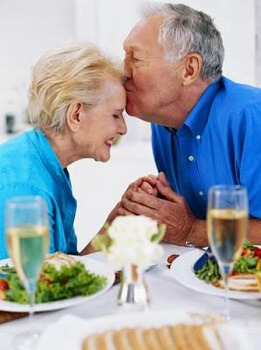 2. A person who cares about health. Intentions in love become more than serious. It is important that there is a woman next to him who will take care and understand with which he realizes his dreams: to travel together, or to spend time every minute, without bothering each other.
3. A man who does not avoid the issue of sexual intimacy. The psychology of sex is such that two variants of scenarios for the development of sexual relations are singled out at this age. This is either an old man whos sexual desire has long been passed and he lives without sex. Or else a modern one who looks younger than his age, and most importantly feels young. He cares about sexual health, since sex is a part of his "young" life.
The psychology of love dating over 50 or older is based on the fact that a man in a completely different way builds life with a woman. For his past life, he has accumulated a lot of knowledge and experience, not only in matters of love, but also in the wisdom of life. Therefore, at this age, a joint life is built primarily on mutual understanding and spiritual intimacy, although the issue of sex is important.
A man of this age is attached to a family. One of the closest people is a wife, she has been cast as a faithful companion and a kindred soul. Her husband studied her in detail. After sixty years it becomes a really strong connection, and, in most cases, it is very difficult to break it. The man realizes that next to a woman who has left behind life problems that have already been resolved, she is ready to live with the same pleasure as him: to bring up grandchildren together, to walk together, to work together at home and in the garden - anything but together. This is the mature psychology of relations.
So, we carefully examined the mechanism of dating after 60 years old. It is based on awareness. No lies, theatricality, unnecessary emotions and so on. After 60 everything is real. Everything around gets a different shade. After the excessively bright, unnatural colors of youth - calm, pacifying shades of real life. Love ceases to be aunt with marmalade-pink cheeks. Now love is a fortress, a hearth, a refuge for two hearts, connected by an invisible but very strong spiritual chain.
Online Dating for Over 60: How to Get the Best of It
Who has not dreamed of days when it is not necessary to go to work, and instead - to go fishing or to go to the cinema with friends? There is enough time at retirement, there are also many opportunities to please yourself. Things are more difficult with the company. The connections are lost, someone complains about health and became a couch potato, someone is nursing with his grandchildren. So, it's time to make new friends. That's just where to find them?
Mature people are increasingly learning the Internet precisely in order to find lost contacts and make new ones. "I want to correspond ... I can become a true friend ... the interests are versatile" - such touchy messages are posted on the over 60 dating sites. It is interesting that almost none of these messages remain unanswered. At the "other end of the Internet" is the same person who is looking for the same as you. Do not believe me? Try it yourself.
However, the topic of our article is slightly more complicated than the search for a simple interlocutor. We need to find the person to whom we will give the most precious thing that we have - our love. Our Ukrainan brides site could help you in this. So, the best way to be successful in over 60 dating is to use dating sites. This is the ideal platform for finding the second half. They are used throughout the world - by young, adults and elderly people. For the latter category of people there are even special dating sites, where people of a certain age are sitting with certain requests. We recommend that you pay attention to those dating sites for over 60.
Firstly, you do not have to spend a lot of time looking at the profiles that do not fall under your search terms for the second half. Secondly, the interface of specialized dating sites allows you to more effectively find the people you are looking for. Thirdly, you will always have plenty to choose from! By the way, online dating over 60 is very fun and interesting. Believe me, this tool for finding love is enjoyed by tens and hundreds of thousands of people around the world.
So, how to make your stay on best dating sites for over 50 maximally effective? We have a couple of tips for you:
Profile. It all starts with creating the perfect profile. Without it, success is impossible because this is your calling card, according to which you will be evaluated first. Create a profile from the selection of a photo. There is nothing more important than a photo. Use the best personal photo taken over the past 6 months, as the main photo for the profile. A group photo with 20 of your colleagues from a student brotherhood or in a strong male company with a rest is completely different. In such pictures, there is nothing wrong with a personal blog, for example, but in a profile on a dating site this will only create the wrong first impression of your potential couple and make people interested in getting acquainted with you to doubt.
Women are very curious creatures, this is not even contested. They will probably be interested to know about your former or current career. However, this does not mean that you need to turn your dating profile into a resume with detailed information about your work experience and companies where you had the honor of working. The female half always wants attention and certain feelings, they will not be interested in listening all the time about work. For this reason, still focus on what you like to do in your free time.
"The main thing is to correctly position yourself ..." The person who pronounced this phrase is great. It is suitable for a variety of occasions, including for dating. Positioning is the adjustment of behavior for one's own purposes. If your goal is to bring dating and communication into reality, then it is not worth to communicate on the Internet for too much time
So that correspondence on a dating site does not take too much time, we advise in the first dialogue to take the girl's phone number. But here the question arises, how to properly take a phone number and what are the rules of acquaintance in this case? There is still a bundle of compliments + a sincere desire to take the number. This way of dating, if it occurs immediately after the first messages, works effectively. It is important that your compliment and your perseverance are sincere.. Do not be afraid, the girl will not eat you - or she will give her phone number, or she will not be the same as you imagined her originally.
Do not be afraid to take the first step. You probably know that girls are very shy. And older women - even worse. A paradox, is not it? After all, it seems that with age all communication barriers should disappear, however this is more relevant for men than for women. Therefore, you again, as in the old-good times, play the role of gentleman and knight! Be gallant and tactful. Believe me, iall people regardless of age appreciate it.
More Ideas to Find Love After 60
Do not like dating sites? No problem! After all, the Internet is not the only place for finding love after 60. Nobody has canceled the walk, right? So, here's a list of places where you can meet a soul mate:
Parks. Older people like to spend time outdoors. It can be a picnic surrounded by grandchildren, a leisurely walk along the lake, perhaps even a run in the early morning - there are a lot of options. If you are one of those who do not stay at home - success is guaranteed to you. Go to the nearest park and just see how many older ladies looking for love after 60 are there, ready for adventure! But there is one rule: you must clearly express your intention to get acquainted, otherwise the air will not have those same fluids!
Dancing. How to find love after 60? We have an answer. Love music? Love to dance? Well, it's beautiful! After all, older people, whose spiritual "settings" have remained at the mark "musical youth" will never be left alone. In any city, in any bar, shopping center or park, theme nights are held where you can listen to the music of your youth and dance. Of course, for couples dancing, you need a partner. That's where all the fun begins. You can place an advertisement to find a partner for dancing in one of the local newspapers, on the Internet or make it even cooler ... get acquainted with a woman right at the party. Believe me, very many elderly people are making new acquaintances, including romantic ones, in such places.
Theater. People who love art never grow old. If you like to spend your leisure time with the benefit of the mind and pleasure for the soul (and not endlessly staring at the TV), go to the theater. Many fans of theatrical art continue to visit this place even in old age. Often they are accompanied by children or grandchildren, but many of them would like to see the second half near them. In addition, the very atmosphere of the theater takes you to an interesting and pleasant conversation. Women turn into ladies with charming manners, and men - in stiff gentlemen with an original sense of humor!
Many elderly people ask: "Can you find love after a divorce?" Our answer is unequivocal: yes. After 50, divorce is just a long-forgotten unfortunate experience and nothing more. And can you fall in love after marriage? Yes, it happens even with elderly people, so you should be ready for it!
There are no comments. Be the first