Bouquets of beautiful flowers are one of the best gifts for girls. All women love flowers and accept it with gratitude. If your flower gift doesn't cause a special delight in a woman, most likely, she is just restrained in the manifestation of her emotions, or you chose the wrong kind of flowers. You should learn in advance how to give flowers on the first date.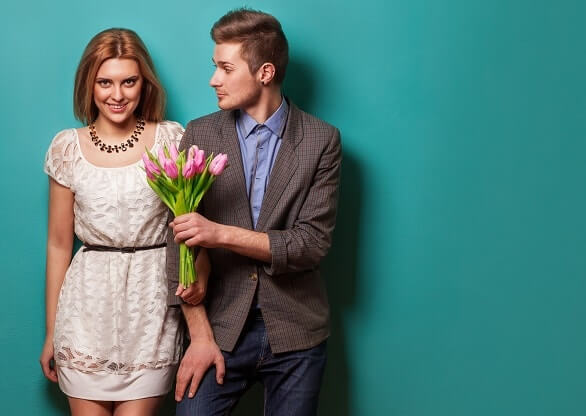 The Culture of Bringing Flowers in Ukraine
People give flowers on a variety of occasions and there are never too many of them. Most often they are presented in the courting phase. But it is necessary to bring flowers for symbolic milestones from the time of the first date with a Ukrainian woman. You should also bring flowers for a birthday, Valentine's Day, and for many other holidays.
What the Amount of Flowers in the Bouquet Means
Choosing flowers for a date, you need to take into account its quantity. This can be a number that symbolizes a specific date but it must be odd:
1 flower is given to a woman who is the meaning of life for a man.

3 is a standard amount. It also may be the proof that a man is ready to do anything for a woman.

5 flowers are a declaration of love.

7 flowers are for girls who are students.

9 flowers confirm your friendly attitude to a woman.
No matter how beautiful a bouquet is, but if it is wrongly handed, all your efforts may be in vain. So, you must keep a bouquet in the left hand but take it in the right hand after greeting and give it to a girl. A very big bouquet can be held with two hands. Don't forget about it while dating with Ukrainian women.
What the Color of flowers Means
If you don't know what flowers to bring on the first date, then read the next tips:
White is the color of purity that symbolizes innocence and kindness. White and other flowers are distinguished by its unobtrusiveness and neutrality.
Red flowers express passion rather than love.
Yellow flowers are a symbol of happiness, joy, good mood and the sun. However, superstitious girls believe this color is the symbol of the near parting. So, you should keep it in mind choosing flowers for the first date with a Ukrainian girl.
Pink flowers symbolize purity, tenderness, and love for a woman.
Orange flowers symbolize happiness, holiday, and wealth.
What Flowers to Give to Different Women
Bright colored roses, gerberas, orchids of saturated shades are for brunettes.
Bring a bouquet of flowers in cream, white, light yellow tones for brittle blondes. It may be roses, lilies, chamomiles. The main rule here is that flowers shouldn't be too bright and big.
Dark roses, purple orchids, and flowers of blue hues will be perfect for red-haired women.
What kind of Flowers a Ukrainian Girl Would Love to Get
If you are dating young Ukrainian girls, then give them flowers of light, pastel colors with half-opened buds. Bright blossoming flowers are for mature women. The older a woman, the more saturated colors should be.
Lilies symbolize purity. If you still doubt about your feelings and intentions but feel tenderness, sympathy, and admiration for a girl, give her a bouquet of lilies!
A red rose is a symbol of love. A burgundy rose means that you have such a feeling, and also fierce passion and admiration. A white rose is a symbol of purity and innocence. A pink rose symbolizes elegance and sophistication. Give one of these flowers to a Ukrainian lady!
Gerberas will be perfect for girls with a light, cheerful character who know how to enjoy life. Present them to a girl at the very beginning of your relationship.
Orchids are expensive but exquisite flowers that express frank feelings of love, tenderness, and intimacy. The variety of orchid species excites the imagination.
A bouquet of tulips symbolizes eternal youth and spring. These flowers are universal and show your admiration and the desire to leave the ranks of bachelors.
Chamomiles are very light and sunny flowers. Any girl or woman will be glad to get a bouquet of these adorable flowers.
This list can be continued indefinitely but these are the most popular flowers that can be bought in a flower shop. In fact, it is very important how you give it. Actually, it does not matter what flowers to give to a woman, let it be a small bouquet of violets but if it is given from the heart, it will be very precious to her. Do not be afraid to give flowers and express your feelings because it is very nice and romantic.
There are no comments. Be the first