Contrary to the opinion of many people, introverts are not aliens. They seem closed and open only for a close circle of friends and relatives. Therefore, they sometimes need to "hide" from the society in order to "reload" themselves. Yes, their behavior may seem strange. Despite all the stereotypes about their secrecy and lack of desire to socialize, there are a lot of bonuses that make them perfect partners. If you don't like introverts and consider them boring, then perhaps it is worth changing your point of view. We will prove that an introvert is a chance to change your life and make it more interesting, unusual, fun and easier.
Dating as an introvert: rules and tips
Since we have touched on this notion – introvert, then let's figure out who is it?! You are an introvert if you prefer silence and loneliness, almost don't need friends, are scrupulous in everything and not very active at times. You will not talk to strangers first. An introvert is a person who has such a nervous system (and this is scientifically proven), which doesn't allow him or her to openly express emotions. The opposite of an introvert is an extrovert. On the contrary, this type of people strives for communication and attention from others, likes to participate in public speeches, crowded events, and parties.
Instruction for action
Do you find it very difficult to get acquainted with girls and invite them to a date? Are you an introvert? Do you have introvert dating problems? Read this introvert guide to dating on our Ukrainian brides dating site and it will change your life and teach you how to go on dates!
Prepare for the meeting
Pay attention to those women who draw your attention on the street or on the television screen. Think, what should be the person you would like to meet? Let this information determine your future strategy for finding your soul mate.
Use common interests for acquaintance
Dating as an introvert, you should take part in public activities, attend conferences on topics that appeal to you and that involve close communication with like-minded people, and participate in your favorite sporting events. But most importantly, be a little more open to other people.
Chat on forums and dating sites
Such communication will not hold you and will give you more personal space. But being an introvert and dating, keep in mind that you need to know how to get acquainted on the Internet because a person on the other side of the monitor often radically differs from his/her profile. Therefore, before meeting a virtual friend, make sure that this is really the person you need.
Use the help of friends and acquaintances
There are advantages in intermediary acquaintances because you can gather the necessary information about a potential partner in advance and find out whether your life goals and interests coincide.
Show your strengths
Although this sounds contradictory, nevertheless, forget about your natural modesty for a while and become bolder. Women like real men. To be bolder, doesn't mean to be ahead of events. Just do everything at your usual pace. If you don't understand someone's witty remark or a television pun and begin to doubt yourself, remember that at least half of all the guys on earth are introverts who completely share your interests and views.
How to date an introvert girl
How to define an introvert? As a rule, introverts always talk about what they think. And if you share your thoughts with one of them, he or she will immediately want to discuss it. However, such people become very selective if they want to share personal information, then their honesty and simplicity in communication make them the most pleasant interlocutors.
Introverts prefer to exchange ideas rather than social information. They don't like boring social conversations. They are more encouraged by some kind of interaction. So, try to prove them that you are a reliable person.
The higher the activity around an introvert, the harder his or her brain works, trying to quickly assimilate and process the maximum amount of the heard and seen information. Therefore, different noisy events can become such an exhausting experience for such person.
One of the things to know before dating an introvert is that introvert women feel good alone, so they don't feel the need to get out or spend their free time in noisy companies. It is very tiring and takes away a lot of forces, which will have to be restored after the holiday. If a family consists of an introvert wife and an extrovert husband, the misunderstanding from an extrovert is often inevitable in this case.
Tips for dating an introvert
1. Don't even try to push such a person to communicate with people
Introverts just don't like it. Deal with it. When an extrovert is dating an introvert, it can end badly. Noisy companies, parties, etc. are torture for such a girl. You must understand it! This is not her comfort zone. This is not what she likes. If you want to go with her somewhere, choose meetings or walks in private.
2. An introvert girl needs time for herself
Yes, dating an introvert is a hard work. If you don't need any time – that's nice. Do what you want, but she wants to spend her free time at home. Remember that you are not tied 24/7. If an introvert doesn't communicate with you for a while, then this is quite normal. She just needs some time to miss you.
3. Learn to accept her and her strangeness
When she reads, she will not even notice the onset of the Zombie Apocalypse; it is quite a common thing to cover her head with a blanket in the middle of summer; if it rains, then all windows must be open; the sleeves of a sweater are always long and cover her fingers; she wants to go out into the fresh air. Two minutes later she wants to return home – all this is just a part of the strangeness of an introvert girl.
4. If you are in public, sit with her in a corner, let her observe and get used to
Introverts are very fond of jumping into a corner. So, dating an introvert girl, sit there with her. Answer her questions. But say the most important thing. Introverts don't like empty talk. Carefully introduce her to only very important to you people. And don't make her stay there for more than an hour, go back home, in your cozy nest and talk about something pleasant.
5. Never interrupt her
Sometimes she can be silent for several hours in a row and sometimes she can talk about herself with an unceasing stream of suggestions. And at such moments, you can learn a lot of new and interesting things about her.
6. Buy her books… a lot of books
Flowers when you meet? In no case. You will not get the expected result. She will mentally mourn for every poor flower that will die in a couple of days. It is better to give books.
7. Always tell her how important she is to you and how much you love her
She worries. She is very concerned about this. She wants to hear that you need her and that she is perfect for you.
8. Don't get carried away with correspondence
If you chose messages instead of calls, don't write them around the clock and don't expect answers to everything. An introvert is irritated already by the very fact of the appearance of a message, leave alone responding to it (especially when meaningless conversations begin in writing too).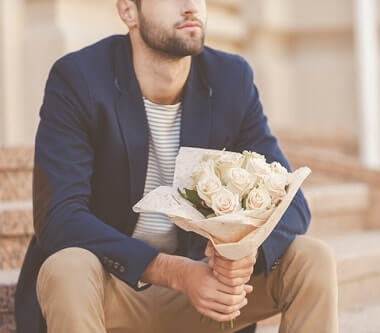 9. She should make sure of your sincerity
The manifestation of a real interest in the words and affairs of an introvert girl, attention to detail in the conversation – that's what she really appreciates.
10. Plan your day in advance
You may ask her to go on a date in the evening, but she already has some plans (actually she planned to spend the evening watching a film, eating fast food and drinking tea) and it's difficult for her to change them just for going with you somewhere. So, do it in advance!
11. Think what you say
Introverts are great listeners. They listen carefully to everything you tell them. So, be careful in your statements since such people have a very good memory.
12. Consider yourself special
It is so because she chooses you. If she lets you come so close to you, then you are also perfect for her.
Introvert dating sites
If you are an introvert or look for such a girl, then register on dating sites. Thus, you will not feel the tension from having to go out. Before you send a message, you can think about what you want to say and how. Also, you can get acquainted with people whose interests coincide with yours, for example, they like to visit the same places or your activities are somewhat similar. So, what are the most popular dating sites for introverts?
1. Introvert Dating Site
This site offers a very convenient space for dating and communication. It is very simple. It will not cause problems even in inexperienced users of the Internet who can also use it in order to find soul mates or just like-minded people for interesting communication. The site offers a simple registration, without details. Just specify that you really need to get acquainted with an introvert. Do it and start your search. Don't be afraid to write first; don't be afraid to respond to the attention shown to you. After all, it's only the Internet and you still don't owe anything to anyone.
2. Introvert Dating
This site is a great place to meet introverts for communication, friendship or maybe even love. As introverts know how it is difficult to get acquainted in the real world, they constantly feel a sense of loneliness, social phobia and even want to disappear because of uselessness. But it is much easier to get acquainted on the Internet as you don't see the interlocutor. Here social phobia disappears by itself and people can open up to each other. When both introverts find each other and understand whether they are interested in communication, they can meet and have topics for conversation as they already know each other more or less.
3. OkCupid
The site has its own algorithm, on the basis of which you can find people who are most suitable for you. To calculate the coincidences, it contains the data obtained as a result of users' activity on the site and their answers to questions. Answering the question, you can specify whether to accept the answers to this question from other users and how important this question is to you. If users with a high percentage of coincidence are detected, the site notifies you of this.
4. eHarmony
eHarmony is one of best introvert dating sites in the world, focused on dating for marriage. It uses a unique patented technology to identify compatibility in people's characters and, based on this, offer you suitable partners for dating. For this, when registering, you will need to complete a large psychological test, the answers to which will be used by the program to find the partners that suit you. In addition to the test, you will be asked to indicate your preferences, what you like, and what characteristics your potential partner should have.
There are no comments. Be the first