Of course, flirting is best with the person you see. In this case, languid looks, sensual sighs, soft touches, etc. are used. But how to meet ladies online and flirt with them on the Internet?
Men who don't have much experience in flirting with girls in virtual space often look for examples of good conversation starters and try to "copy" them. This is a pretty good way to learn how to flirt and develop relationships. However, you shouldn't forget that flirting doesn't accept clichés. So, during the conversation, you need to focus not on the "pattern" of the dialogue but the mood and reactions of a girl.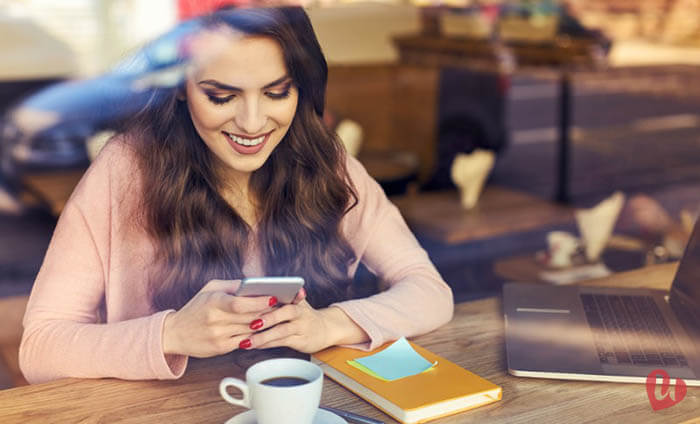 Some Rules for Texting a Girl Online
When you meet a single woman online, you understand that flirting is a special skill that allows you to attract the attention of the opposite sex, not only with visual contact but even with virtual correspondence. Learn how to flirt with a girl using conversation starters for texting.
Be respectful
Women love when men hear and listen to them. For messages on the Internet, this statement sounds a little awkward, however, this principle also works in non-verbal communication. Listen to a girl and politely reply to her. Some believe that light rudeness and pressure can seem attractive qualities. But it works only in certain situations. To attract interest in the network, it is better to choose a polite way of communication. Also, when telling something about yourself, don't forget about compliments to the girl. Some remarks of her beauty, exclusivity, noted between the lines without much emphasis, may create an amazing "atmosphere" of your communication.
Forget about clichés
Never use such phrases like, "Hello, how are you" and "hey, don't you need a real man like me?" – they can never be called the best conversation starters. Come up with a couple of original phrases that will talk about you as an extraordinary person. If a man begins his dialogue with the phrase "Hello, how are you?" or "... what are you doing now?" then the girl can simply ignore such a message. Each girl receives a lot of similar messages every day. Don't forget that you are communicating with a person you like and if you want to become closer to her, you have to turn on your imagination. Talk to the girl as if you have known each other for a long time, mirror her mood (it is felt in messages), and show that you are not expecting anything but just want to communicate.
Watch your grammar
Girls don't want to read your confused words and try to figure out what you mean. If several thoughts are formed in one sentence at once, then, most likely, a girl will ignore you. If you want to communicate, write clearly. Literate written speech is a sign of respect for the interlocutor. This doesn't mean that all the online conversation starters must be checked thoroughly with a spelling dictionary. Just try to avoid elementary mistakes. After all, you are an adult man! Of course, you don't need to write poems to her, but you need to show the girl that you took the time to grammatically construct sentences.
Use information from her profile to start
Before you start an online dialogue with a woman, you need to carefully study her page. Look at the topics that interest her, carefully study her circle of friends and their interests. You can start correspondence with a friendship request and a small pleasant compliment in the first message. The words, "You have a beautiful smile" will please any woman and will help attract her. If you don't want to start acquaintance with such words, you can ask a girl to help you, for example, after seeing her photographs abroad, ask the woman to tell about the trip to find out more about the places she visited.
Keep calm and don't flood her with texts
Many guys make one total mistake – they bombard with messages women they like. Of course, when we like a woman, we want to know what happens to her, whether everything is okay, etc., but don't forget – she may have her own affairs, problems, personal life. When you flood the woman with messages, she feels uncomfortable, besides, increased attention may begin to annoy her. Communication should be equal. There is no need to overdo it. Send a few messages to know how she's doing. If she willingly replies, then you can text for some time. If she is silent, don't ask where she is and why she's not answering.
Ask more about her
There are 2 options: either start asking questions so that she begins to talk about her favorite things and activities or show your knowledge of some particular topic. If it turns out that you have a common hobby, it will be much easier to start a conversation. The girl may have similar interests to yours. Perhaps you have long dreamed of doing something, but still, hesitate, then ask the woman for advice, let her recommend you what to do. But don't be obsessive. When the girl doesn't want to answer questions, don't insist. She is probably in a bad mood or not able to communicate with you for a long time.
Best Flirty Online Conversation Starters
To arouse the interest of a girl means to ensure continued acquaintance. Girls don't stay with boring men, so you need to revive communication as soon as possible with intrigue. Look at these examples of what to write to a girl to interest her from the first messages.
Do you like to travel? You have very beautiful photos on the page. Where else have you been?
Do you like to watch a movie? What is your favorite movie?
You have a great body. Are you interested in sports? What gym do you visit?
I have a feeling that we know each other, don't you think so?
You are very beautiful, have you heard this before?
How often do you go on dates? I want to ask you to go out!
Have you ever drunk champagne in the moonlight? Maybe let's try it together?
What does "love" mean to you?
Do you dream about children or do you want to live for yourself? – This is one of those great conversation starters that help understand what a girl wants from life.
Your smile is perhaps the best I've seen so far.
I can't understand what makes you so charming, but you definitely have something interesting.
I would give you a gentle and sensitive massage of the whole body, but unfortunately, we are still not so close. – This is how flirty conversation starters look like.
Would you like to compete with me in a culinary battle (dance, intellectual or any other)? But I must warn you in advance that you have a little chance of surpassing me.
Usually, I don't like girls with such an appearance, but you have become an exception to the rule.
What do you think, is it possible for us to become good friends or do you want more?
Hm, this blouse that is worn on you in that profile picture seems to me too provocative, you are an insidious temptress, not a shy person who pretended to be at the beginning of our intellectual conversation.
Does your body smell as good as it looks?
Tell me, are you and Angelina Jolie twin sisters? – This is a good example of funny conversation starters.
There is something charming about you. I can't understand yet what it is, but I'm going to reveal this secret.
You smile so beautifully. I look at you and my soul rejoice.
How do you feel about a guy who is ready to ask you to go out after two minutes of communication? And after five?
You know, I always considered myself a good photographer. Do you want to be my fashion model?
What would you like to receive as a gift? How can I please you?
How do you feel about outdoor activities? Let's rest together.
Have you thought about how to spend this evening? I can give a couple of ideas.
What are your plans for the coming evening, week, life?
Do you have a dream? Do you want me to give it to you?
Do you often do crazy things?
How do you feel about the fact that some say that relationships can be bought for money?
Have you ever had a complete night date?
Girl, if I had your phone number, I would probably be the happiest! Will you make me happy?
You know, today is my birthday, and you can give me the best gift in my life – your phone number. – It looks like one of the funny conversation starters for texting, but it may work out, and you can get her phone number.
I know this is not original, but I am so impressed with you that I don't want to miss the opportunity to get to know you.
Topics That Always Work in Online Conversations
Even the most sociable men sometimes feel awkward in moments of silence while communicating with women. Such situations more often arise when communication has just begun, and common ground has not yet been found. At this moment, a guy needs to know what to talk about with a girl because their further communication depends on it. It is especially necessary to choose topics for a conversation with a woman you like and when you want to get to know her more closely.
Her interests
Having carefully studied the girl's page, you will already be aware of her hobbies. Therefore, one of the best conversation starters for online dating is her interests. If a woman likes hiking, it is worth asking questions or for advice. The girl will gladly talk about her hobby, revealing herself and her character. With a sincere interest in her hobby, you will be able to hook on the interlocutor, to lure her. Don't forget to tell interesting things about yourself and your favorite activities.
Her profession
Topics for talking with a girl can cover a wide variety of segments of life. You can talk about her profession. It is important to show that you are interested in the details of her life. Also, you can ask the woman if she liked her school years or whether she remembers the funny episodes with her participation from college years. Perhaps in the process of dialogue, it becomes clear that the woman graduated from the same educational institution, you saw each other while studying at the college or had common favorite subjects.
Her photos
Girls like to post many photographs. Someone is doing this professionally, but most of them just like to upload numerous photos on the network. Therefore, if you are tormented by the question of what to ask a girl on the Internet, originally comment on any of her photos or ask where the photo was taken and wait for an answer.
Music
Ask the lady why she likes or dislikes the tracks that are popular today, where she downloads music, what emotional state she experiences while listening to songs, and what genre of music she prefers. By the way, this information can be used if you are going to arrange a romantic date for the girl in the foreseeable future, then you will create the right atmosphere by turning on her favorite song.
How was her day
This topic opens up the opportunity for you to learn more about a girl. You can ask about her day, but this shouldn't be just a question like "How are you?" She should understand that you are interested in. Ask, for example, what's new at work, what she did today, and so on. After all, you can always ask a girl how she feels, whether she needs your help, how the previous day went, how the mood is. This will replace the boring phrases. But asking these questions and carefully listening to her answers, you can get closer to the cherished goal.
Key Don'ts of Starting an Online Conversation
What shouldn't you talk about and how to behave with a girl being online? When communicating on the Internet, it is also worth avoiding some things.
Asking too personal questions
You shouldn't start with too personal text conversation starters from the very beginning. Some of these topics are suitable when you reach a particular stage in communication. These topics are religion, politics, family relationships, personal life, and past relationships. And if the girl is interested in the guy, she wants to quickly open up to him and anyway tells everything. It is just important to notice the reaction of the girl and her willingness to answer such questions. If something goes wrong and the conversation fails, then you shouldn't intrusively continue the discussion. If the woman is quite restrained, you can discuss some other things.
Sending nude pics
You shouldn't send nude photos if you don't know each other well. Your naked body is unlikely to bring you closer. Never send such photos unless you have been asked. If she didn't ask you for this, keep them for someone else. You can be proud of your body, consider that this is what turns on a lady, but this is not so. This is not sexy and romantic. Don't be so vulgar. This is the worst conversation starters with girls. It looks like a big risk. And a cheerful, attractive guy can be mistaken for a sexual maniac.
Behaving like an alpha male
In modern society, an alpha male is a man with high self-confidence, the makings of a leader who is ready to realize his thoughts and ideas with very great success. Men with low self-esteem or complete lack of self-esteem seem weak, and women feel it per kilometer. Women feel when a man is trying to pretend to be someone else. But a real alpha male doesn't try to look better since he is comfortable in his skin. Authenticity is one of the important characteristics of an alpha male, and this must be remembered. So, don't pretend to be someone you're not.
The purpose of flirting is to feel an attraction for each other or to understand that nothing is working out. Moreover, this process is more exciting when it is slightly stretched in time, so don't expect everything at once. Slow, light, gentle flirting is the key to success for both of its participants. And good conversation starters with a girl will surely help you in this.
There are no comments. Be the first